Happy Happy Valentine's Day!!!!!!!
It's Valentine's Day!!!!!! Hooray?!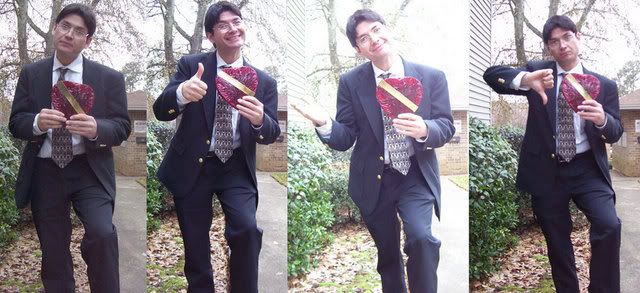 Today is the greatest holiday in world. Well not really, we all know that's
Federation Day
, however that is long way away, so Valentine's Day will have to for today.
So here are a few gifts for one and all. I dug through my video archives and I found a few rare video clips of me during my college years.
In 1995, I wrote my first
Symphony
. I had composed twelve major band compositions and many quartets by this time as well. At this time in my life, that was the major creative work I had completed. And I was so proud that I could say that I wrote a Symphony. One of the few people in the world that had the skill, the creativity and the drive to make my dream come true.
Every composer has in the back of their minds to write their
Symphony
. At this point I had been composing classical music for about six years. And after I had my finished my first Symphony, I felt like I could compose anything. That's a great feeling.
It isn't the greatest Symphony every written. It follows the Classical form exactly. At the time, I had dreams of getting it performed all over the world like Mozart's and Beethoven's. Well that didn't happen. However I was tenacious and worked very hard and I got it sight read once time. That is more than what Schubert had with his
Unfinished Symphony
.
When you get composition sight read, it means that no one has worked on it. And unless it's was very simple, you are going to hear some missed notes and rhythms. However when I hear it, I hear the magic that's there between all of their mistakes. And plus I got to conduct it too! At the time, I thought that was a great conductor also. Now I can't remember the last time I held a baton.
I hope that you enjoy it. If you watch it, you may not recognize me, however that is me. It took a lot of work to be the person in the photo above, well that's another story and blog.
I also have two Romantic piano performances on tape too. At one point in my life I used to practice piano four hours a day. I miss that. And all of my piano friends. Well I am glad that I had the good sense to record two of my favorite piano performances. When I play
Chopin
and
Mendelssohn
now, I remember all the hard work I did back then.
A few years later in 1997, I started to study the art of magic. I really wanted to make a video of a magic show for my grandparents. So did. I gave the tape to them without telling what was on it and when they saw it, they were so surprised! That made my year. I hope you enjoy my
Magic Show
too.
Well have a Happy Valentine's Day. Hopefully my rare video gifts will give you some joy and inspiration. If I can do all of that, better myself and have happiness in my life, so can you. Believe in yourself and you can archive anything.
That's a good thing because for a minute there, I thought that we were in trouble.
Symphony No. 1. by Herbert Midgley
Chopin's Waltz in A minor played by Herbert Midgley
Mendelssohn's "Song without words" played by Herbert Midgley
The Magic Show (Staring Herbert Midgley) 1997
If you would like to play my Symphony here are the parts. Or if you would like to hear how a computer would play it, here are both the midi and mp3 files.
Symphony No. 1(Orchestra score)
Also I had 14 people download my new play
"That Couple"
last week. That is way over the three people that normally download my plays. If you like to read, check it out. It's good, trust me.
On a happy note, I haven't turn on my heater at all this year. For some reason, I'm very proud of that. Rock and Roll!
Enjoy your life as much as you can no matter what day it is!